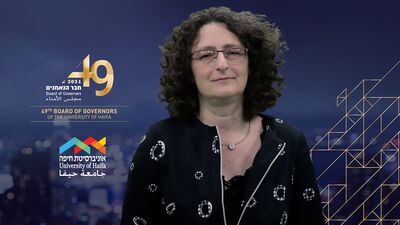 I serve as the head of Department of Art History where I am a senior lecturer. Since 2015, I have been heading the "Nofei Yeda" project, sponsored by Yad HaNadiv, aimed at promoting Humanities studies in other faculties of the University of Haifa. I am also the artistic director for the Negev Byzantine Bio-Archaeology Research Program, under the direction of Prof. Guy Bar-Oz. My research interests include Byzantine and Early Christian art as well as 19th-century photography of the Holy Land. In 2011, I published Revelation through the Alphabet: Aniconism and Illuminated Initial Letters in Byzantine Artistic Imagination (Geneve: La Pomme d'Or). I earned my PhD from the Hebrew University of Jerusalem (2004).
---
---
I emigrated to Israel from Russia in 1991 and joined the Department of Art History in 1997. Captivated by the rich history of the Land of Israel, my research focus has been on Jewish and Christian art in the region.
In 2016, I joined the excavation project at Shivta, a Byzantine village in the Negev, led by Prof. Bar-Oz and Dr. Tepper from the Zinman Institute of Archaeology. Recently, an unknown wall painting of the Baptism of Christ was discovered at the site, the earliest surviving depiction of the "Holy Face" in a church in the Holy Land. It attracted worldwide attention and was selected as one of top ten most important discoveries in 2018.
The Shivta project provided me with an opportunity to combine my two passions – Byzantine art and 19th-century photography - and gave me access to invaluable documentation of the site and of the Holy Land in general. Photographs, which appear to present reality as it was, actually distorted it by promoting political, religious, and ideological agendas, and by molding western minds. And there is still evidence of its influence today.
In studying material and visual cultures, I view Art History as a window through which we may better understand humanity in all its diversity: past, present and even future.