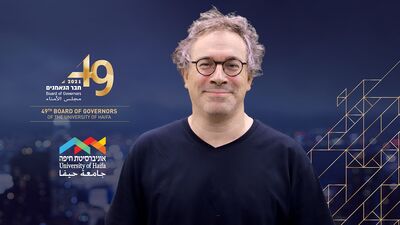 I am an astrophysicist and an associate professor of physics at the Faculty of Natural Sciences where I head the astronomy group that is exploring the physics of supermassive black holes. I am actively engaged in promoting interdisciplinary science across campus and public outreach programs. After graduating from Tel-Aviv University, I was the first Israeli to have been awarded NASA's Chandra Postdoctoral Fellowship. Additionally, I served as a member of the Institute for Advanced Study in Princeton and University of Toronto.
---
---
The University of Haifa's astronomy group was established in 2017 as part of the Haifa Center for Theoretical Physics and Astrophysics. It is currently the only group in northern Israel focusing on astronomical research (observational astrophysics). The group is internationally recognized for mapping the immediate environs of supermassive black holes, which are known to harbor the centers of most if not all galaxies. The team is currently constructing a large astronomical observatory in Israel's south, and is in the process of raising funds for the imaging system of the observatory. When the new observatory is commissioned, it will be unique among other observatories in the world, and will be able to probe supermassive black holes' immediate surroundings with unrivaled precision. Additionally, it will play a crucial role in a network of observatories located on the ground and in space that will monitor the transient universe.

The group collaborates with colleagues in leading institutions around the world, such as Princeton University, and the University of Göttingen, and is partly supported by research grants from the Israeli Science Foundation, the German Science Foundation, and the Planning and Budgeting Committee. The group currently consists of a faculty member, three postdoctoral fellows, and two students.